For a truly decadent rice then you have to try this. It's great at fiesta times when you want to impress your guests. You can add different vegetables, depending upon seasonal availability. Make sure you get good quality fresh prawns and serve it with some very cold pink wine.
Seafood Rice – Arroz y Pescado – Spanish Recipe
Ingredients
For 6 people :
600g paella or risotto rice
300ml olive oil
1.5 litres water
200g cuttlefish or squid cut into pieces of about 3-5 cm
200g prawns (preferably red)
200g swordfish or tuna cut into pieces of about 3-5 cm
200g onion
200g tomato
200g peas
½ tsp paprika
150mg of saffron threads
3 or 4 sprigs of parsley
3 cloves of garlic
1 red pepper
¼ tsp pepper
3 artichokes or 1 small broccoli
Instructions
In the pan add a few tablespoons of olive oil until the bottom is covered, warm slowly.
When the oil is hot add the cleaned and sliced cuttlefish or squid. Put a lid on and cook slowly until soft. The cooking time depends on the size of the fish, about 10 minutes is usually sufficient.
Meanwhile finely chop the onion and cut the bell pepper into long thin pieces. Add to the pan with the cooked squid or cuttlefish.
Cook until beginning to brown then add peeled, chopped tomatoes, chopped garlic and parsley and a little ground pepper.
Add the artichokes pre-boiled for about 10 minutes, cut into quarters. If using divided broccoli florets you don't need to pre-cook. Finally add the peas and the prawns.
Sauté for about 5 minutes, then add the uncooked rice and fry for a further 3-4 minutes.
Boil the water and add a little salt. Then add to the frying pan.
Add the pre-cooked fish pieces when the rice has started to boil. After a couple of minutes add the saffron, stir and re-check the seasoning.
Boil for about 15-20 minutes. Cover and stand for 5 minutes, then it's ready to serve.
http://nativespain.com/cooking-spanish-recipes/food/seafood-rice-arroz-y-pescado-spanish-recipe/
Copyright NativeSpain.com
---
Muga Rosado 2012 Rioja
Rosé wine from 60% Grenache, 30% Viura and 10% Tempranillo grapes. 13.5%. From this classic Rioja winery, we recommend this fruity rosé to accompany the rice.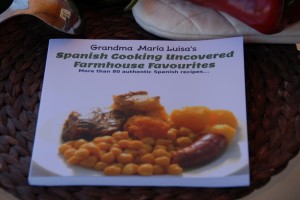 Get the book for more authentic Spanish recipes.
Enjoy more than 80 uncovered recipes from Grandma María Luisa's Spanish Farmhouse Kitchen. Grandma María Luisa's Spanish Cooking Uncovered: Farmhouse Favourites is a treasure trove of recipes discovered after over 70 years.
María Luisa's handwritten recipes from the Civil War period uncover the secrets of traditional Mediterranean cooking. Enjoy more than 80 recipes using fresh, natural, healthy ingredients to feed a modern family, with a hand-picked wine choice for every dish!
Latest posts by Debbie Jenkins (see all)